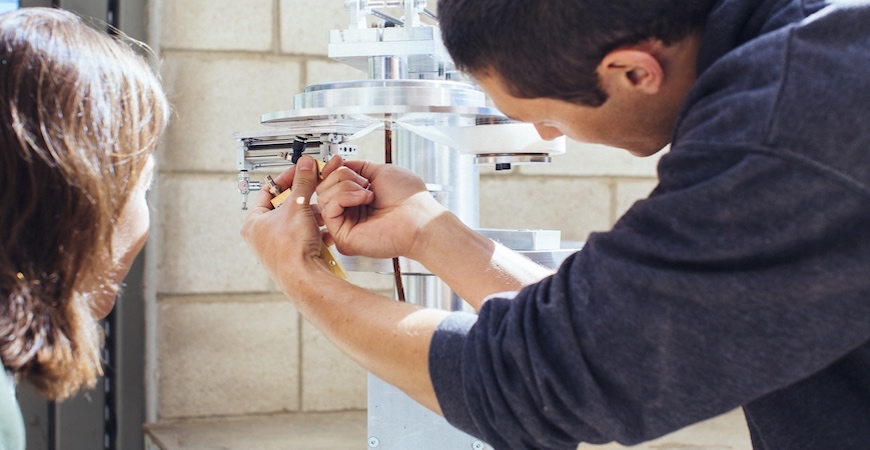 The idea for a year-end event showcasing School of Engineering students' original designs started as a scribble on the back of a cocktail napkin and culminated in the exhibition of 12 teams' work.
Now, six years later, Innovate to Grow (I2G) has become a premier event on campus highlighting dozens of projects and drawing audiences from across campus and throughout the community to UC Merced.
The seventh annual spring I2G expo is scheduled for Friday, May 11. This year's event highlights the work of 31 senior engineering capstone teams whose projects comprise the Innovation Design Clinic (IDC); 16 teams competing in the CITRIS Mobile App Challenge (MAC); and 10 teams presenting their community-focused Engineering Service Learning (EngSL) projects.
"Innovate to Grow has become one of the flagship events for the School of Engineering and the entire UC Merced community," Dean of Engineering Mark Matsumoto said. "This year's program promises to be the biggest one yet."
I2G has ballooned into a massive biannual exhibition and competition in which students debut innovative smartphone apps, give hands-on demonstrations of cutting-edge prototypes, and showcase the imaginative and often ingenious ways they've solved problems for industry, government and nonprofit partners.
Though it touts itself as an engineering design expo, I2G has helped launch several Central Valley startups founded by UC Merced students and alumni.
For example, Sweep Energy helps companies improve production efficiency by monitoring industrial equipment using big data and machine learning. But the Merced-based startup — founded by SoE alumni Agustin Roldan ('15), Yi Lu ('15), Matt Fostiropuls ('15) and business and economics alumnus Tamba Baldé ('16) — has its origins in I2G.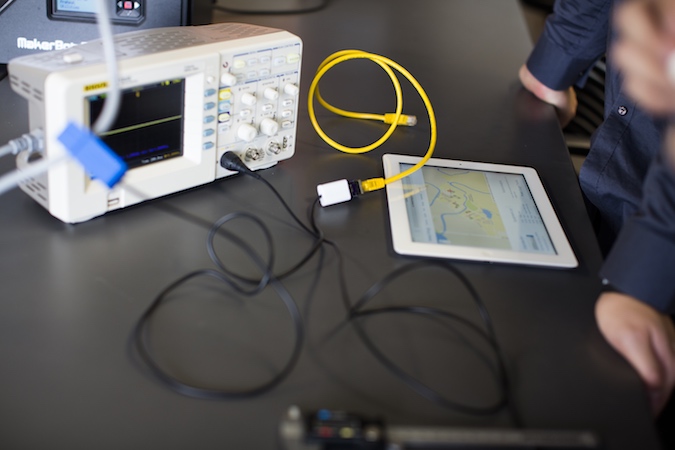 It started with Switch, the app that took first prize in the 2015 Mobile App Challenge. The Switch team designed a smart electrical outlet that could be monitored and controlled via smartphone. When the team realized that its internet-of-things technology could be used by small businesses and local farms to improve efficiency, Switch expanded, becoming Sweep.
Three years later, Sweep Energy returns to I2G — this time as industry mentor to two IDC capstone teams. Sweep is helping one team design an automated production line and helping another develop a platform for testing industrial electric equipment.
But Sweep faces a bit of friendly competition from Bowles Farming Company.
The Los Banos-based farm — and one of Sweep's first clients — is mentoring two rival teams in this year's IDC competition. IDC Director Professor Alejandro Gutiérrez said this is exactly what I2G is meant to be.
"Innovate to Grow is supposed to foster collaboration between students and external partners," Gutiérrez said. "But the best ideas often emerge when teams are encouraged by healthy competition between friends, colleagues and collaborators."
Partnering with local organizations like Modesto-based E&J Gallo and UCSF Fresno, I2G continues to showcase novel solutions to regional problems. But the event has expanded well beyond its San Joaquin Valley roots. Teams are now working in the San Francisco Bay Area on ways to improve BART infrastructure and with the Australian-based T3 Energy to produce green building materials.
"It's amazing to see how Innovate to Grow has expanded over its six-year history," Matsumoto said. "I2G has become far more than just a showcase for student achievement in engineering, entrepreneurship and design. It's an opportunity for our friends, partners and the community to see how their support for the School of Engineering and UC Merced is paying off."
The daylong event is free and open to the public. A complete schedule and event map are available online. Additional information can be found on the I2G Website. Event parking is available at North Bowl 2 Lot. Attendees are encouraged to RSVP in advance. Questions can be addressed to innovatetogrow@ucmerced.edu.